We understand that modern life means stress, little time and a lot of worries, but we still have the will to do good and contribute to things getting better. Help us to help you by giving you the opportunity to contribute to the creation of new forests in southern Romania, which will solve a number of environmental and social problems.
Every contribution helps! Only 15 RON (3 euro) ensures the planting and care of a tree until it reaches maturity.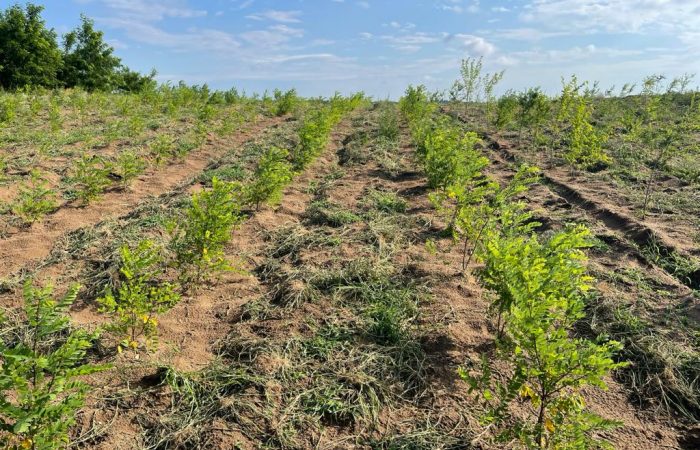 YOU REDUCE YOUR IMPACT ON THE ENVIRONMENT
Plant trees to offset your carbon footprint!
Any activity that we humans carry out means the consumption of natural resources and implicitly the emission of carbon dioxide and other greenhouse gases, which determine the acceleration of global climate change. Any car trip, home heating and electricity use have a negative impact on the environment, especially due to the burning of fossil fuels. Each of us has a "carbon footprint" equal to the amount of CO2 that reaches the atmosphere from our activities and our personal consumption of resources.
The good news is that we can offset some of this negative impact by planting trees. As it grows, a tree absorbs CO2 from the atmosphere and releases oxygen. However, given that the carbon footprint in Romania is on average 4 tons per inhabitant / year, and a tree absorbs between 5 and 22 kg CO2 / year (depending on species and age), it is difficult to plant enough trees to make a difference by yourself. But we also have a solution for this:
Help us, through a simple donation, to help you with the planting of forests that will absorb what you emit!
You are contributing directly to solving environmental problems by increasing forested areas and you can be sure that your action will have a long-term impact. At the same time, you stand in solidarity with rural communities, but also with all your peers who are vulnerable to the effects of global climate change.
Adoptă un Copac and receive a personalized Certificate of Adoption, with which you can surprise your loved ones. A unique gesture, with an echo in the future, which you can personalize according to the friend who will become the new parent of the tree. Give a meaningful gift, in a printed or digital format. You can even gift it at important events in your life, such as your wedding or a baptism, as a souvenir for those invited, or as a birthday gift to a dear friend.
Every contribution helps! Only 15 RON ensures the planting and caring of a tree until it reaches maturity!
VOLUNTEER TOGETHER WITH YOUR COLLEAGUES
Convince your boss to do a different type of teambuilding!
Spend time and energy to reconnect with nature and get to know your colleagues better. Your collective effort will be reflected in the creation of new forests, which provide many benefits to us all, and which you can visit even after you retire.
Learn new things about nature and yourself
Coming with us to plantings provides time and energy for a noble cause, you reconnect with nature and learn a lot about trees, forests and the environment. At the same time, you exercise outdoors and meet new people, in a unique context, which gives you the opportunity to get to know yourself better.
VOLUNTEER IN ORGANIZING A PLANTING EVENT
Be a volunteer with the "Adoptă un copac" team, and thus be part of the change you want to see in the world. You will help us to organize planting events, with hundreds of people and thousands of seedlings, in a picturesque rural area. Your involvement will contribute to the creation of new forests, which will provide ecosystem services that will benefit all of society.
If:
You want to volunteer;
You are an active person;
You are interested in nature and its protection;
You think that only by getting involved you can contribute towards a healthier environment;
You are responsible and respect commitments made;
You are always no time;
You live in or near Bucharest;
It means we are on the same side of the barricade. Come and team up in the story of good!
What are we offering?
Opportunities to develop personal skills through practical activities;
Opportunities to find out more about forests and afforestation, selective collection and recycling, etc .;
The opportunity to participate in our planting events;
The possibility to participate in events where our afforestation project will be present;
You will get a volunteer certificate, which certifies the experience gained;
You will be part of the "Adopt a tree!" Community;
The possibility to get involved in other ViitorPlus projects.